Registration for the Fourth Annual Canadian Catastrophe (CAT) Conference Opens Today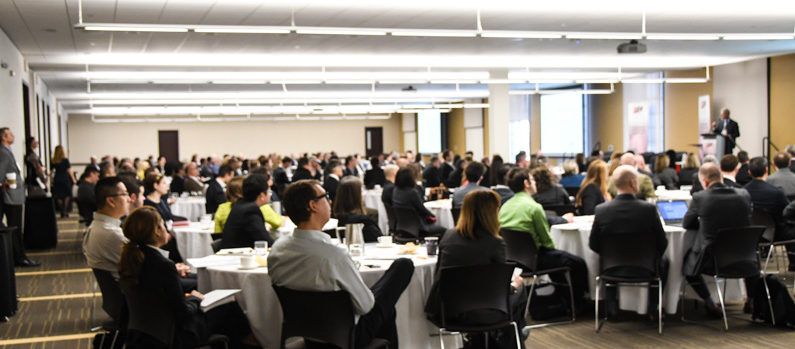 Toronto (July 23, 2018) – Significant flooding, damaging winds, and ice storms have made for widespread community impacts and large insured losses across Canada in the first half of 2018. For example, May's windstorm became the costliest event in Ontario since the 2013 Toronto floods. With this summer's "CAT" season only at the mid-point, 2018 has the potential for catastrophic losses for many stakeholders.
CatIQ is pleased to announce that registration for its fourth annual Canadian catastrophe conference, CatIQ Connect, is now open. CatIQ Connect 2019 is being held February 4-6, 2019 at the Metro Toronto Convention Centre. CatIQ Connect will kick off with a review of the events from 2018, which is sure to be interesting, given the weather activity in 2018 thus far.
CatIQ Connect, formerly C4, is a content-driven conference designed to foster collaboration between sectors relating to Canadian catastrophes. David McGown, SVP, Strategic Initiatives at IBC says "the upcoming 2019 CatIQ Connect conference follows on the heels of successful C4 conferences organized by CatIQ. The shift to focus this year beyond insurers is an important step in broadening the conversation to include other important stakeholders. As always, the conference will provide a good variety of topic areas aimed at improving knowledge and sparking conversations. We look forward to the opportunity to learn and connect with others in February 2019." Catastrophes impact many different organizations, stakeholders, and, above all, Canadians citizens.
CatIQ Connect is for:
Insurance/Reinsurance Professionals
All Levels of Government
Academia/Researchers
Risk Managers
NGO's
Other sectors/organizations dealing with resilience to catastrophes
Keynotes:
Howard Kunreuther, Co-Director of the Wharton Risk Management and Decision Processes Center, University of Pennsylvania, will present The Ostrich Paradox: Why We Underprepare for Disasters
Henk Ovink, Special Water Envoy for International Water Affairs for the Kingdom of Netherlands in a fireside chat with The Co-operators' President & CEO, Rob Wesseling
Ed Struzik, a Canadian author and photographer, will present a view of how wildfires will shape the future
CatIQ Connect 2019 Agenda Highlights:
Interactive Workshop
Climate Concerns in Financial Services
Lessons Learned on Hurricanes
Meltdown: A Nuclear Catastrophe
Local Perspectives on Recent Events
Are Critical Services Adapting?
Risk Communication and Personal Perception
Codes and Standards
Mortgage Impairment Due to Earthquake Loss
New Technologies and Techniques
A Scientific View of Climate Change
Once again, this year's Steering Committee covers organizations concerned with adaptation and management related to Canadian catastrophes, including:
Jim Abraham, 2019 Emcee and President, Climaction Services Inc.
Kris Bagchi, AVP, Reinsurance, TD Insurance
Ron Biggs, National Claims Director, RSA Insurance Group
Teresa Burgess-Ogilvie , Partnership Engagement Committee, IAEM Canada and Manager, Office of Emergency Management, City of Mississauga
Paul Cutbush, SVP Catastrophe Management, Aon Benfield Analytics
Jim Eso, SVP, Property and Casualty, Crawford & Company (Canada) Inc.
Dr. Blair Feltmate , Head, Intact Centre on Climate Adaption, University of Waterloo
Deirdre Laframboise , Senior Manager, Knowledge and Sector Development, Green Municipal Fund Federation of Canadian Municipalities
Glenn McGillivray , Managing Director, ICLR
David McGown, SVP, Strategic Initiatives, IBC
Megan Meaney, Director, ICLEI Canada
Shawna Peddle , Director, Partners for Action, University of Waterloo
Alison Porter , SVP, Head of Treaty, SCOR Canada Reinsurance
Alexa Reedman, Research Program Coordinator, MEOPAR
Kimberly Roberts , VP & Senior Meteorologist, JLT Re
Dwayne Torrey, Director, Construction & Infrastructure, Standards, CSA Group
Laura Twidle, Director, Catastrophic Loss Analysis, CatIQ Inc.
Rebecca Wagner, Associate Director, Meteorological Service of Canada, Environment and Climate Change Canada
Kyle Winston, Co-founder & President, CRU Group Inc.
To register for CatIQ Connect 2019, or to keep up to date on the latest announcements, visit www.catiq.com/connect or follow CatIQ on Twitter at @CatIQ_Inc or through the hashtag #CatIQConnect.