Registration Now Open for CatIQ's Canadian Catastrophe Conference (C4 2018)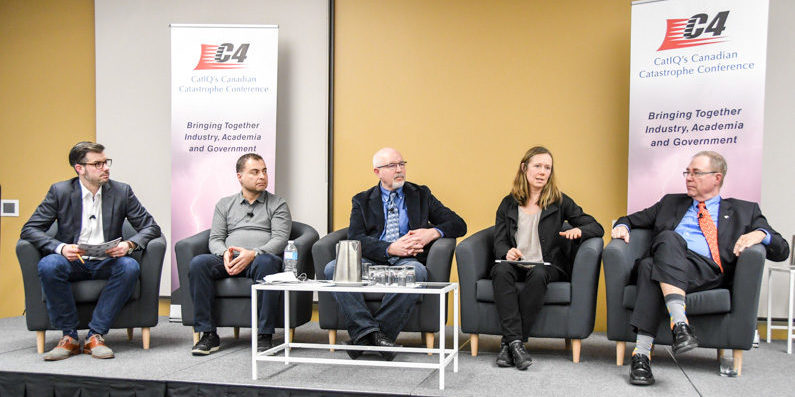 Toronto (October 19, 2017) – With the help of the CatIQ′s Canadian Catastrophe Conference (C4) expert Senior Advisory Committee, CatIQ announced that registration is now open for C4 2018. The three day event will provide attendees with a content driven platform to foster collaboration before, during and after catastrophic events.
Jim Abraham, Director, Canadian Climate Forum and President of Climaction Services Ltd reprises his role as C4 2018 Emcee.
C4 is geared towards:
Industry executives, including the Canadian Insurance & Reinsurance Industries, as well as other sectors impacted by catastrophic events
The academic and professional community conducting research related to natural or man-made catastrophes, engineering, and emergency management
All levels of government (municipal, provincial and federal) tasked with preparedness and resiliency from catastrophes
Policy makers and risk managers
The full program is now available online at www.catiq.com/c4 featuring over 36 outstanding speakers from industry, academia and government. C4 2018 sessions centre around three main themes: Catastrophes (An Overview), Strategies and Tools in Catastrophes Management and Sector Perspectives. Additionally, attendees will hear from keynote luncheon speaker: Maryam Golnaraghi, Director, Extreme Events & Climate Risk, Geneva Association
Sessions include:
INTERACTIVE WORKSHOP: Canadian Disaster Mitigation Workshop
2017 CATs in Review
Flood Risk Management All Over the Map: Bringing Some Cohesion
Public Communication in Times of Crisis
East vs. West – Understanding Macro-Economic Impacts of Earthquakes
Lessons from Emergency Management Plans
Building Back Better
Coping with Canada's Hottest Peril – Wildfire
Ensuring the Viability of The Alberta Property Insurance Market
Democratizing and Improving CAT and Hazard Models
Delegates who register before November 30th receive a discount of $100 and an additional $100 discount if three or more delegates from the same company register. Additionally, C4 2018 features a discounted Academic Rate available to students and professors at Academic Institutions.
Current partnerships include:
Platinum Sponsors: IBC and CRU Group
Gold Sponsor: Aon Benfield
Silver Sponsors: Guy Carpenter, Swiss Re and RMS
Community Partners: CWRA, Canadian Climate Forum, ICLR, CMOS, Conservation Ontario, ICLEI, Ouranos, Partners for Action & Toronto and Region Conservation
To register, visit www.catiq.com/c4, and obtain more conference information overall and information on partnerships.
C4 2018 Advisory Committee Members:
Jim Abraham, Director, Canadian Climate Forum
Heather Auld , Principal Climate Scientist, Risk Sciences International, Inc
Nathalie Bleau, Coordinator, Built Environment Program, Ouranos
Matthew Godsoe , Manager, Research Unit, Public Safety Canada
Balz Grollimund , Head Treaty Underwriting, Swiss Re
Stacey Johnson, Reinsurance Specialist, Wawanesa Mutual Insurance
Glenn McGillivray , Managing Director, Institute for Catastrophic Loss Reduction
David McGown, Senior Vice-President, Strategic Initiatives, IBC
Megan Meaney, Director, ICLEI Canada
Shawna Peddle , Director, Partners for Action, University of Waterloo
Anne Ruel, Senior Actuarial Advisory, Risk Management, Desjardins General Insurance Group
Sean Russell , Managing Director, Guy Carpenter
Jason Thistlethwaite , Assistant Professor, School of Environment, Enterprise and Development, University of Waterloo
Laura Twidle , Director of Catastrophic Loss Analysis, CatIQ Inc.
Pat Van Bakel, President & CEO, Crawford & Company (Canada) Inc.
Rebecca Wagner, Associate Director, Prediction Services Operations – Central Region, Meteorological Service of Canada, Environment and Climate Change Canada
Kyle Winston , President, CRU Group Inc.